In areas of intensive dairy farming like the Golden Vale, many rural homes that source drinking water from private water wells, boreholes, springs, streams and water reservoirs are at threat of bacterial contamination from E.coli (Escherichia coli). In fact, almost all private water well supplies throughout Munster and the Mid-west situated anywhere near farms where liquid slurry is spread are at threat from E-coli contamination.
Where does E. coli come from?
E.coli (Escherichia coli) is a type of bacteria that normally lives in the intestines of animals and humans. The large quantities of liquid slurry (animal faeces waste) created on modern dairy farms is one of the most common ways E.coli find its way into private water supplies. During heavy rainfall, farmyard slurry can be washed into streams, rivers and holding tanks, (even into the borehole supplying the holding tank), which can end up in private water wells supplies designated for drinking water.
Health effects of E.coli?
There are many strains of E.coli and most will be relatively harmless. However, the strain that can cause problems is the O157:H7 serotype. This strain of E-coli produces toxins that can cause severe illness in many people. Symptoms of E.coli infection include severe abdominal cramps and bloody or non-bloody diarrhoea. Many times no fever is present. Symptoms may take between 2 and 8 days to appear. Complications can cause severe kidney problems and could threaten life. These symptoms are common to a variety of health issues so if you have any of them, you should seek medical assistance.
Private water wells anywhere near large dairy farms in Co Limerick and throughout the Golden Vale are at risk – do not be complacent.
Frequently we hear the words "…we've been drinking the water for years….and we've never had a problem….". This may be the case, however, the groups of people that are at a greatest risk include children, the elderly, the sick and visitors not accustomed to drinking the private well water.
How can you protect yourself from E.coli in private water supplies?
If you have a private well water supply it is good practice to have your water supply tested on a regular basis as this will be the best way to find any potential risks. At Uisce 4 we can arrange to sample your water for you. The private water well sample will be analysed by an accredited laboratory for analysing water quality. The results detailing levels of bacteria or other contamination in the water, and explanations into what these results mean will then be returned to you. Uisce 4 U will provide advise on the best water filters, UV Disinfection or other methods of correction. If E.coli is found to have contaminated your well water supply, it can be treated in number of ways, the most popular being the installation of a (UV) Ultraviolet Steriliser. This is a method that uses ultraviolet (UV) light at sufficiently short wavelength to prevent micro-organisms multiplying, including E.coli. Another method used is to dose a small quantity of chlorine into the water supply. Chlorine has the ability to kill almost all bacteria which may be present in the water supply. Chlorine or its derivatives are common to public water supplies, but of course will change the flavour and taste of the water. Boiling the water can also be a method but is not always convenient for cold drinking water.
Your next step
Uisce 4 U can provide you with the correct equipment to solve your private well water supply problem. We offer a free site survey (within 70 kilometres of Ballyneety) to determine what your needs might be and discuss the findings of any water analysis that has been carried out. Do not be concerned if you are outside of our service area as we will still be able to assist you with sampling, advise and corrective water treatment systems. We have the expertise to supply and install water purification equipment to deal with bacteria, viruses, cysts and any other water treatment problems.
Many pathogens are resistant to the treatments used in public water supplies, and can lead to severe illness.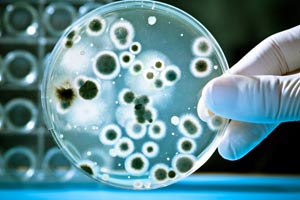 Dangerous bacteria, viruses and cysts, many of which are tasteless and odorless, can contaminate water supplies without warning. Chemical disinfectants are used to discourage bacterial contamination in public water supplies, but accidental or intentional system breaches, such as waterline breaks, can result in 'boil water' alerts and illness. As well as intensive farming practices, contamination can be caused by other factors such weather conditions or septic tank leakages. In addition, many pathogens are resistant to the chemicals used by treatment plants. Left unchecked, bacterial contamination such as from E-coli, Entercocci, Coliform Bacteria, Chryptosporidium, Colistridum Perfinges, can lead to Typhoid, Dysentery, Cholera, Hepatitis or Giardiasis.
Signs of Bacteria in Your Water
Frequent illness from rinsed foods or drinking water
Water tests positive for bacteria
Algea or Mould growth
Private well water could have other contaminates that are a potential danger to human health.
Micro-organisms These include but are not limited to Campylobacter species, Cryptosporidium species, Enteric viruses, Giardia species, E.coli O157, Streptobacillus species, Paratyphoid fever, Blue-Green algae (Cyanobacteria). Chemical or Heavy Metal Contaminates These well water contaminates include but are not limited to Metals (Aluminium, Iron, Manganese, Lead), Arsenic, Nitrate, Ammonia, Herbicides, Pesticides, Chlorinated solvents, Disinfection by-products, Trihalomethanes, Bromate. Physical and other attributes These include but are not limited to Hardness, pH values, Colour, Turbidity, Taste and Odour, Radioactivity.
UV Disinfection Solutions
As Uisce 4 U is an independent contractor and not tied to a particular manufacturer, we can supply and service all types and brands of UV lamps. We can supply and install 15 watt, 30 watt, 55 watt, 75 watt Ultra Violet UV lamps as well as complete spares, repair, parts and service.
Call Uisce 4 U now at 061-351643 to arrange a water test, site visit or consultation without obligation.