At Uisce4U, we have successfully designed and implemented various types of industrial filtration and disinfection systems to solve some larger scale commercial or institutional water problems.
Commercial Water Softening Systems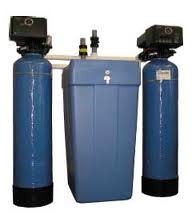 Duplex softeners function similarly to simplex units, except that they consist of two resin columns where one is in service and the second is on standby. The flow of water to service is metered and when the first column reaches exhaustion the control valve automatically switches the service flow to the second column and then regenerates the exhausted first column. It is then put on standby until required again for service. In this way a duplex softener is capable of giving a continuous 24 hour supply of softened water. Duplex softeners are therefore ideal for sites with large variations in water demand or for applications where a continuous and uninterrupted supply of soft water is essential. It is normal practice to size a duplex unit on the basis that each column regenerates once each day.
Validated Ultra Violet Disinfection Systems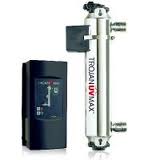 Ultraviolet water disinfection is the use of ultraviolet light in order to inactivate microorganisms in either drinking water or wastewater. UV water treatment devices can be used for well water and surface water disinfection. UV treatment compares favorably with other water disinfection systems in terms of cost, labor and the need for technically trained personnel for operation: deep tube wells fitted with hand pumps, while perhaps the simplest to operate, require expensive drilling rigs, are immobile sources, and often produce hard water that is found distasteful.
Call Uisce 4 U now at 061-351643 to arrange a site visit and free consultation.