At Uisce 4 U we offer a wide variety of water filters and water filter cartridges to meet all your water treatment and water filtration needs.
We are experts in providing domestic and commercial water filters, and have provided water treatment solutions to a wide range of customers across Ireland.
Each of our customers has a unique requirement, and our highly skilled team ensure you get the best water filter products and maintenance service available.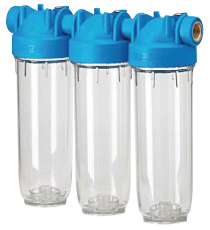 Replacement Filters Available from Uisce4U
We have Filters for 10″ & 20″ Filter Bowls, Undersink Systems, 5 Stage R.O., Single Cartridge, Twin Cartridge, Triple Cartridge, Fridge Filters, U.V. Lamps etc.
Filter Housings
Uisce4U supply the full range of Atlas Filtri products. From 10 and 20 inch filter housings in both standard and jumbo sizes. Individually, duo or trio arrangements as shown in the attached image.
Filters
A wide range of filters and cartridges are available.
Hydra Range
Self-cleaning filters with back-wash (Manual or Automatic) have been designed with innovative solutions regarding the efficiency of the system for the self-cleaning of the cartridge, thanks to newly designed back-wash on counter-current which provides the highest particle removal from the cartridge.
When the cartridge is to be cleaned, the cleaning operation with back-wash is simply operated by opening the discharge ball valve at the filter bottom. That operation causes a pressure-drop which pushes the cartridge downwards to the bottom of the housing and reverses the water flow from the outer to the inner side of the cartridge.
The counter-current back flow washes away the impurities trapped onto the outer side of the cartridge. The filter cartridges are available in a range of sizes such as 50 and 90 micron with stainless steel or plastic net type cartridges.
The HYDRA filter features a drain funnel, which is a device designed to protect potable water in water installations against pollution by backflow in accordance with European standard UNI EN 1717 November 2002. This device prevents backflow by making all elements downstream from the solenoid drain valve vent to atmosphere.
Cartridges
Uisce4U supply spun, wound, stainless steel net, nylon net, activated carbon, carbon block & nitrate cartridges for the aforementioned housings.

Filter housings made in PET, a highly recyclabe plastic, are manufactured with a proprietary procedure saving up to 60% of energy in injection molding compared with standard plastics.
That is one of Atlas Filtri commitments to comply with Kyoto Treaty for the reduction of green house gas (CO2) emissions in the atmosphere.
Call Uisce 4 U now at 061-351643 for pricing and availability.