Rainwater can be harvested for both domestic and commercial applications.
Harvested water from the home can be used for non-potable uses such as toilet flushing, washing machines, garden water and car washing. Harvested water from commercial premises is especially beneficial as there is a greater requirement for non-potable water for applications such as toilet flushing, wash down, car washes and fleet washing.
The Benefits of Filtering & Storing Rainwater
Rainwater is freezz
Rainwater is environmentally friendly
Rainwater is naturally soft, meaning your appliances will be scale free
Rainwater reduces your water bills
Rainwater can save up to 50% on mains water use
Low maintenance costs
Adds value to your property
How does it work?
Rainwater is collected from the roof area via the chutes and down-pipes and collected in a storage tank either underground or overground.
As the rainwater enters the tank it is passed through a leaf filter, filtering any large particles present such as; leaves, moss, heavy sediment etc.
Rainwater then enters the main chamber via a calmed inlet. This prevents smaller particles being disturbed as water enters the tank having settled on the bottom of the tank.
A Submersible pump c/w floating suction hose then pumps the water from the middle of the tank to the premises.
Prior to entering the header tank in the attic the rainwater is passed through the secondary rainwater filter system.
The rainwater is now ready for non-potable use throughout the home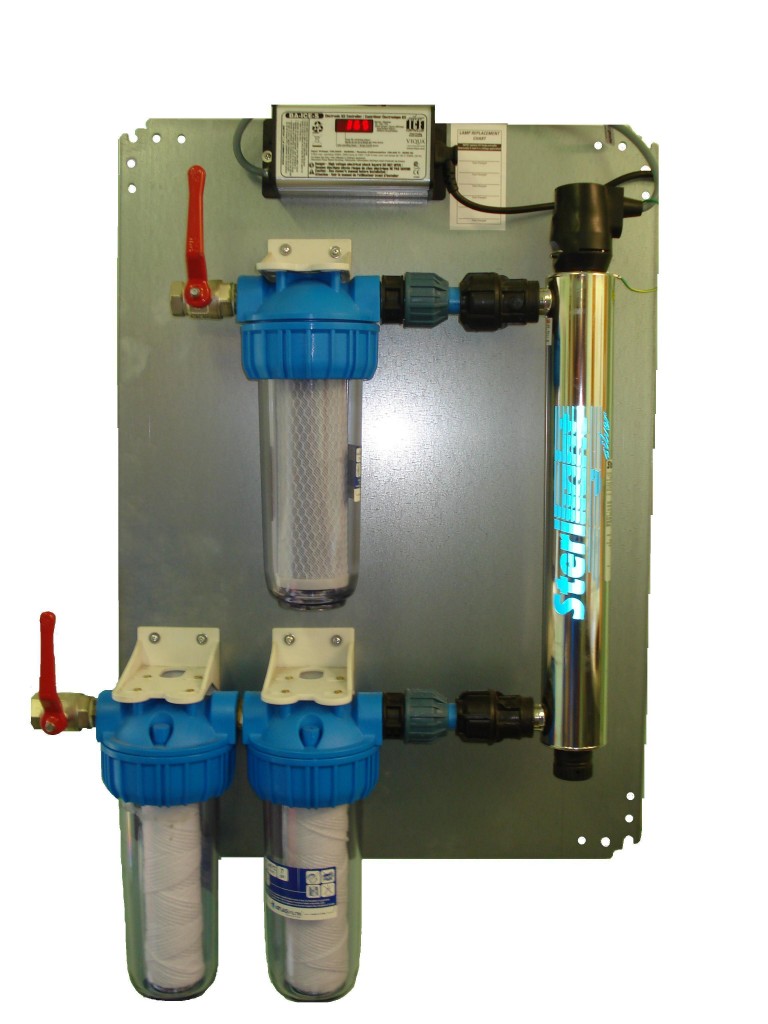 3D Visual of complete water harvesting
Rainwater Secondary Filtration system
Recycling rain water is today's must. Clear water is the need. Rain water collected from the roof and stored in tanks hardly meets quality levels so that it can be directly used for showers, washing machines, gardening and other domestic uses. Therefore, our suppliers have designed packaged filtration systems to meet this need.
The Rainfilter Ultra Violet System
The Rainfilter Ultra Violet System is a packaged filtration and disinfection unit for rainwater applications. This unit will effectively remove sediment, bacteria and unpleasant smells from the rainwater supply. There are 4 stages in the Rainfilter Ultra Violet System
Poly wound 25 micron filter, Heavy sediment
Poly wound 5 micron filter, Light sediment
Ultra Violet disinfection, Bacteria
Activated Carbon, Unpleasant Smells
The Rainfilter Ultra Violet System comes with isolation valves on the inlet and outlet for ease of installation and filter changing. We use only the best filters and UV units to assemble the Rainfilter. All our filters and filter housings are sourced from Italian supplier Atlas Filtri and our UV systems are sourced from Canadian supplier Viqua.
The Rainfilter Automatic & Semi-Automatic
The Rainfilter Automatic & Semi-Automatic are packaged filtration units which will effectively remove sediment and unpleasant smells from the rainwater supply. The advantage of this unit is as Automatic cleaning filter in the first stage of the filtration unit. Therefore, 90% of sediment is automatically washed from the filtration system to an open drain.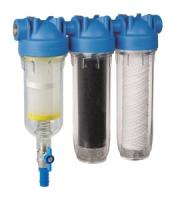 There are 3 stages in the Rainfilter Automatic / Semi-Automatic
Stainless 60 micron filter – Heavy sediment
Activated Carbon – Unpleasant Smells
Poly wound 5 micron filter – Light sediment
The Rainfilter Automatic filter features a drain funnel, which is a device designed to protect potable water in water installations against pollution by backflow. This device prevents backflow by making all elements downstream from the solenoid drain valve vent to drain.
Call Des at Uisce 4 U now at 061-351643 for more details on rainfilter rainwater harvesting kits and pricing.