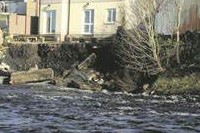 Households and customers of the Abbeyfeale public water supply as well as households in other areas of West Limerick should be more than concerned at the reports of high pesticide levels in their drinking water. This is a result of the work of the Mount Collins/Brosna Anglers' Association who have documentation that shows persistent pesticide safety level failures at 15 sampling stations on the River Feale between Rockchapel and Abbeyfeale.
During the years 2015 to 2018, the Abbeyfeale public water supply which is sourced from the River Feale, had pesticide levels of .65 mcg per litre, or six times higher than the EU-permitted parametric limit of .10 mcg per litre. The European Drinking Water Regulations 2014 (S.I. 122 of 2014) (as amended) set out the parametric limits for pesticides in drinking water.
The main problem is the persistent level of the pesticide MCPA which is entering the river since at least 2013. The pesticide MCPA, a toxic substance, poses a health risk to humans as well as a huge threat to the survival of fish particularly juvenile salmon like smolt and parr, in the River Feale. It is very likely that other rivers in Co Limerick such as the River Deal and Maigue are also contaminated with pesticides entering the river from intensive farming and dairying activities in the county.
If you are worried about pesticides and other chemical contaminants in your home drinking water, a quality under-sink water filter or filtration system will purify the water for drinking and provide long term protection and peace of mind.