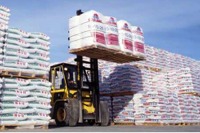 In a recent report, the Irish EPA has issued a warning that just under half of Irish rivers (47%), just under a quarter of groundwater (24%) and over one fifth of estuary and coastal waters (21%) have nitrogen levels that are too high.
It noted that many of the rivers in south of Ireland including the counties of Cork, Limerick, Tipperary and Waterford are under pressure with excessive nitrogen caused by intensive farming, including intensive dairy farming and other agricultural activities.
There are many private water wells in the intensive farming areas of these counties, particularly in the Golden Vale and Mid-West region, many of which could be affected by high nitrogen levels. To protect your family's health and ensure safe drinking water from a private water well, we recommend installing a water filtration system. For home owners with their own private water well, a Government grant may be available to assist with protecting and maintaining private household water wells or installing water filtration, water purification or water disinfection systems.
The first step to determine the quality of your water supply and the type of water filter or disinfection (UV system) you need is to test your water supply.
Contact Des now for more information on water testing and the best water filter system to install in your home.